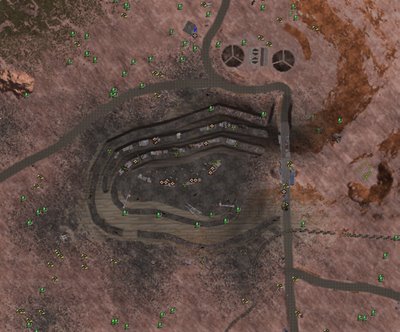 Boneclaw is the stronghold of our local CHOTA here on the Plateau. It's built in the bottom of an old quarry, so it's sort of terraced... the CHOTA have built a little town on the terraces, and down in the bottom.... bet it's hell when it rains.... if it would ever rain, that is.
Warmaster Jannix has a tough time keeping the peace here, as the CHOTA aren't exactly known for their solidarity. The Blade Dancers are attacking here, as usual. There's a little strip town just North of Boneclaw itself, and it's CRAWLING with Blade Dancers... must be something there they want... or maybe they're just assholes. Who knows...
If you get wrapped up in that CHOTA shaman/spirit quest/trials of the mighty stuff, you may want to check out the "Cave of Beasts" just past the big bridge, down in the gorge. Lots of stuff to smash down there... mostly mutant insects, but if you look around down there, you'll see some downright SCARY shit.... I swear, there's a spider down there as big as a house!!!
All in all, Boneclaw's where you want to be if you like thwacking stuff upside the head with a lead pipe or some other instrument of pain and torture. The CHOTA don't really take time to teach you how to make friends, or shoot a rifle. Nah.... these guys are all about "Hulk Smash!" and "Proving You Aren't a Wimp" and such.
Oh, and watch your back in there... never know when something will eat you in Boneclaw.
**Info Posted From GlobalAtlas**