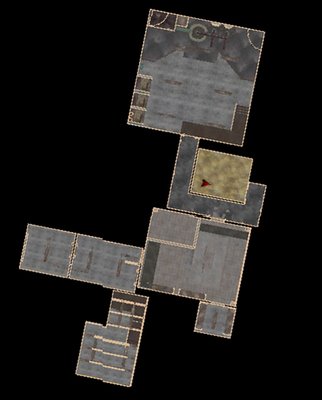 Now Midway is a crappy little swell in the road that has seen better days. It's great if you like scavenging, though, because the whole damned place is damn near rubble. Not that the Travelers have taken very good care of it, mind you. The old family there is weakening, and a new family has decided to muscle in. Now of course, them Travelers can't kill each other, but I'm SURE there's work to be found if you want to *ahem* do some mercenary work for one side or the other.
Now, the strangest feature of Midway is that most of the good loot can be found ON TOP of the buildings, but getting up there can be a real chore. You gotta find roof accesses, and they're only in a few buildings. However, most places got a sign out front that advertises roof access... it's only a matter of time before the Travelers start charging for it, no doubt!
Seems there are some freaks outside of town calling themselves the "Children of the Gear." They worship technology and say things in a really stupid way called "leetspeak". I can't imagine anyone ever using language like "L O L" and such, but hey, no one said the Children were smart, right? Anyway, they got a little shrine in a nearby junkyard, so look out for those guys.
The Blade Dancers are out there, too... of course, they're pretty much everywhere you DON'T want them to be, so you can barely spit without hitting one of those chuckleheads. Surely someone in town wants a few of them taken out.
Paulie down at the diner is known for his cooking, which is pretty much close to poison... pop in there if you are brave enough to try one of his "Desserts."
This town is great if you like to build stuff, seeing as how there is a TON of rubble to sift through. All sorts of folks givin' away books on how to craft stuff, too! That's were I started, and look how great I am! Heh.
**Info Posted From GlobalAtlas**